A TRULY UNIQUE OPPORTUNITY TO WALK ON NATIVE CORAL ROCK Get up close to a Marion Manley original. The home was built for Coral Gables artistic genius Denman Fink who lived in the house for several years.
SAVE THE DATE!
Thursday
NOVEMBER 21st
6 TO 8PM
760 ANASTASIA AVENUE
WINE, CHEESE & MORE
GUEST SPEAKER
MR HERBERT BRITO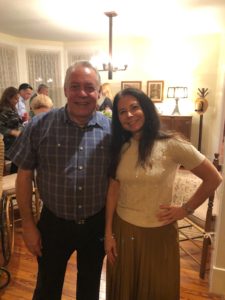 Brito holds a Master of Arts in
Architecture degree from the University of
Florida with a specialty in architectural
preservation. Brito has been named a Design
Excellence Peer in Historic Preservation and
Interior Design by the U.S. General Services
Administration.
Photo: Herbert with HPACG board member Mary Anne Danguillecourt
PLEASE RSVP BY NOVEMBER 19TH
info@historiccoralgables.org
TIME TO RENEW YOUR MEMBERSHIP OR JOIN
[Annual memberships run from JANUARY 1 to DECEMBER 31]
Event is FREE for HPACG members
$50 for non-members
RENEW OR JOIN ONLINE