Eminent design historian Emily Evans Eerdmans will present on the Parisian interior design legend Henri Samuel.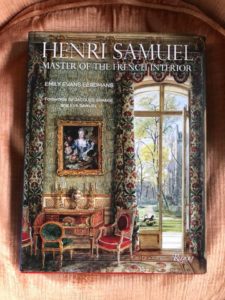 DATE: Tuesday June 5, 2018
TIME: 5.30 to 8pm
PLACE: Bonnin Ashley Antiques
4707 SW 72 Avenue, Miami, FL 33155
RSVP: info@historiccoralgables.org
ADMISSION: $40/$30
PAYMENT ONLINE:
https://www.paypal.com/fundraiser/charity/122201
PAYMENT BY CHECK:
HPACG P.O. BOX 347944 CORAL GABLES, FL 33234
Miami will soon be able to hear the charismatic and enthusiastic Ms Eerdmans share her knowledge with a PowerPoint lecture and book signing to introduce the book to Miami on 5 June at Miami's own Bonnin Ashley Antiques owned by Michael and Sorne Boloix Flick, at an event being hosted by the Historic Preservation Association of Coral Gables. The event will also include Champagne and book signing reception with light menu before the lecture. Tickets are $40.00. HPACG paid members $30. Funds raised help Historic Preservation efforts in Coral Gables. Copies of this ravishing book will be available for purchase thanks to Books & Books of Coral Gables. Co-Sponsors: Mrs. Lewis Fomon and Lluria Fine Arts Services, LLC.
Don't miss this perfect after work event that is sure to be civilized and most congenial!
Emily Evans Eerdmans is an acclaimed design historian and author. Eerdmans teaches design history at the New York School of Interior Design.