STILL IN A FESTIVE MOOD?
Start the New Year with some "Prohibition Pleasures" in support of Historic Preservation in Coral Gables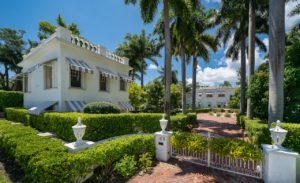 Join the Historic Preservation Association of Coral Gables for a unique destination and historical tour titled "Palm Island and the Capone next door: 100 Years since Prohibition". The venue is the 1920s Budweiser Estate built for Clarence M. Busch (of Anheuser-Busch) by architect W.F. Brown. The estate helped establish Miami Beach as an American leisure destination. The Capone estate, coincidentally also built for a Busch, is next door.
"When I sell liquor, it's called bootlegging; when my patrons serve it on Lake Shore Drive, it's called hospitality." Al Capone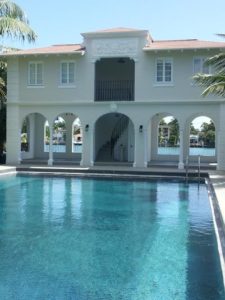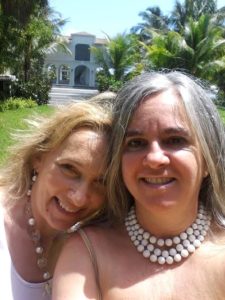 Capone House. That pool is impressive in its own right: at 30-by-60-feet, it was "originally built to best the Biltmore Hotel's record for largest pool in the area."
"PROHIBITION PLEASURES"
Live Saxophone.
Cocktail & Champagne Reception with Private Tour & Talk with Dr. Paul George
January 12, 2020 from 4 to 7PM
143 Palm Island, Miami Beach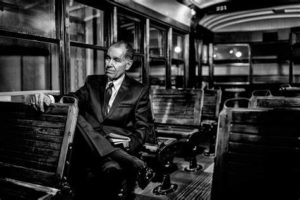 Dr Paul George, premier historian and the man who knows everything about Miami, is the featured speaker. He will give a private tour of the property. His talk will connect the dots during the Prohibition era– from 1920 through 1924– when the development of Palm Island included two prominent Busch families, and infamous resident Al Capone, bootlegging, and speakeasies. Dr George, who was a longtime professor at Miami Dade College, currently offers tours through HistoryMiami. He was the 2019 recipient of the Education Award from the Coral Gables Community Foundation.
$200 per person
$150 per person for HPACG members
[The cost of the event is $70 per person. Please consult a tax advisor to determine if a deduction is available.]
Casual Elegant or Roaring '20s Attire
Advance sales only. There is limited availability. Paid reservations ONLY by January 11th. For questions please contact info@historiccoralgables.org
Mail checks payable to: HPACG P.O. Box 347944 Coral Gables, FL 33234
Or pay ONLINE: https://www.paypal.com/fundraiser/charity/122201
[add the amount in the "OTHER" box]
###
Historic Preservation Association of Coral Gables (HPACG) is a 501c3 nonprofit whose mission is to promote the understanding and importance of historic resources and their preservation. For additional information or to become a member, please visit www.historiccoralgables.org