The Board of Directors of the Historic Preservation Association of Coral Gables recently celebrated its benefactors who support the George Giving Society—an annual fund campaign. Donations are unrestricted and benefit historic preservation and its resources. The invitation-only event was at the elegantly renovated 1926 home of Coral Gables residents Ray Corral and Alina Meledina. The property was one of the first homes built on Country Club Prado. The street –best known for its historic entrance on Southwest Eight Street—is one of the most famously photographed sites in Coral Gables.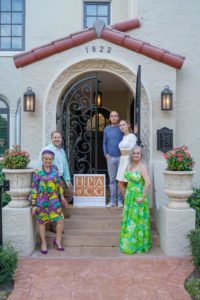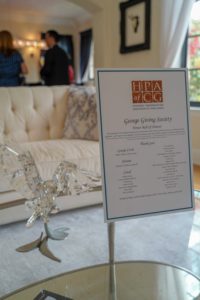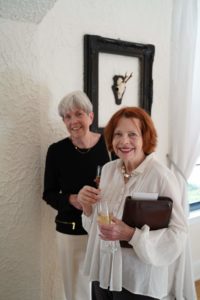 The afternoon was picture-perfect and as bright as the natural sunlight that welcomed the group.
Guests delighted on savory and sweet treats that included among other delicacies Saint Andre cheese and raspberry spinach tea sandwiches and local whole organic strawberries served with handmade organic whipped cream.
Champagne flowed nicely and guests flowed freely enjoying the pleasantness and camaraderie of the afternoon. All gathered during the lively presentation by Ray and the enchanting Alina, each detailing the ups and downs of restoration while trying to maintain the historic authenticity of the property. From plastering the walls, to refurbishing the stone fireplaces, to bringing back the luster of the original Cuban tiles, to carefully restoring the decorative wood balustrades on the spiral staircase, all proved to be worth the attention at the end. According to Alina, "It was a labor of love."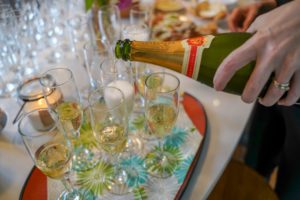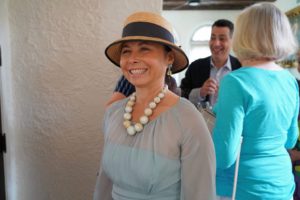 Ray, a mosaic artist who creates one-of-a-kind works of art, designed many of the decorative pieces found throughout his home– details that add a touch of modernity to the historic. One of the home's unique pieces is the ornate mosaic dining room tabletop designed by the homeowner who also created the bathroom floor tiles and the glistening pool's exquisite pattern inspired by the relief on the stone fireplace in the living room. Each work captures a special kind of charm that adds color and newness to the 93 year-old "grande dame". Old certainly does not have to be boring and this house is young at heart.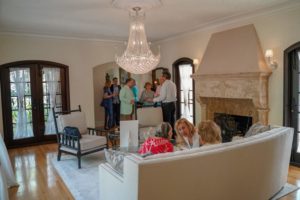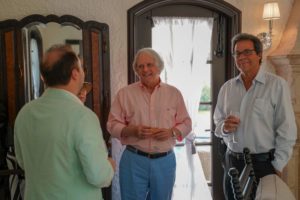 Attendees included The Honorable Don Slesnick and his wife, former Commissioner Jeannett Slesnick, Josephine Johnson, Jane and Steve Maranos, Barbara C. Zwick and friend Karen Moore, and many others. Joining the homeowners Ray and Alina, were HPACG Board of Directors Karelia Martinez Carbonell, president; Mary Anne Danguillecourt, secretary; Lisa Bennett and Ann Goodman, past presidents; new member Brett Gillis, and returning members Pat Button, Alice Goldhagen, and David Mitchell.
Check out the photo gallery: https://photos.app.goo.gl/acLNZjFyzLutmUNr9
Media: INYBN-Apr3-2019-pg18
THE GEORGE GIVING SOCIETY IS NAMED IN HONOR OF CORAL GABLES FOUNDER GEORGE MERRICK
The George Giving Society is an annual giving campaign. Gifts made to the campaign at any of the giving levels will be recognized in the Honor Roll of Donors. Individuals who give $100 or more are invited to the annual benefactor reception. Giving can be made online at https://historiccoralgables.org/donate/
Or mail check payable to: HPACG P.O. BOX 347944 CORAL GABLES, FLORIDA 33234
LEVELS OF GIVING
$1000 and above GEORGE CIRCLE
$500–$999 TERRA COTTA
$250–$499 SIENNA
$100–$249 CORAL