The Board of Directors of the Historic Preservation Association of Coral Gables, George Giving benefactors, and members of the City of Coral Gables Commission and other staff recently gathered to unveil and celebrate the return of two restored 1920s Arcadian streetlights to Coral Gables' first public building…the Coral Gables Golf & Country Club.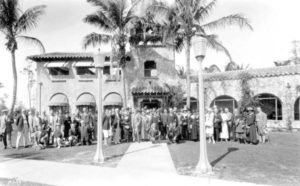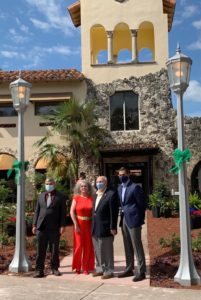 Speakers included Warren Adams, the city's new historic preservation officer, Karelia Martinez Carbonell, president HPACG, and Mayor Valdes-Fauli who made the closing remarks that addressed in detail the efforts made to return the Arcadians to their original spot.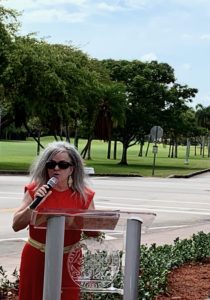 Once upon a time in Coral Gables, miles of beautiful White Way street lights illuminated the plazas, boulevards, and avenues. In preparation for the eight miles of lighting, thirty-five miles of wire were used to install the iron and steel posts erected throughout the city. But, as one Coral Gables advertisement from 1922 stated, "The person who sees the White Way for the first time will appreciate it not for its iron and steel but for its beauty and grandeur."
Most of the White Way streetlights that made up the eight mile illumination corridor were in the "Arcadian" style. The Arcadians had many options of mixing and matching components. Greg Dalkranian, a collector and the restorer of these vintage streetlights, and who was also present at the ceremony, observed, "Looking at the beauty of these lamps, I would be willing to bet that Denman Fink and George Merrick personally put together the combination of post and globe from the Westinghouse catalog. That is why I call these lamps the Gables Arcadians."
In the fall of 2019, the HPACG Board unanimously voted to support the restoration efforts of the two Arcadians in partnership with the City Commission. Vice Mayor Vince Lago sponsored Resolution 19-9389 which passed 5-0. HPACG stands proud to partner with the City on this unique opportunity to bring back a piece of lost history to the place where Merrick once stood and addressed the merits of buying into his dream of a city.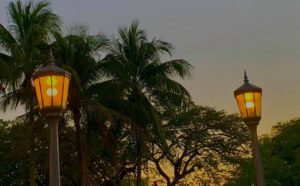 Many thanks to Martha Pantin, the city's communications director, for her efforts in planning and organizing the ceremony to unveil the Arcadians.
Thank you to our George Giving Society benefactors whose donations made this project possible.
YOUR GIFT MEANS EVERYTHING. 100%
To join in the effort of supporting future preservation projects
please visit www.historiccoralgables.org/donate
MEDIA
CITY RETURNS RESTORED Coral Gables – April 12, 2021